For the mini-wardrobe contest you need to make four pieces that will compliment a previously owned piece, or completer piece.  All together you need to make at least six outfits with your items.  So I made two tops, a dress, and a pair of pants.
COMPLETER PIECE- my refashioned navy cropped leather jacket (love it).
TOP ONE- For this top I drafted a loose fitting top with butterfly sleeves, a v neck and gathering at the neck line.  I found this lace at Joann's that is more like the lace that you would see on the veil part of an old fashioned hat (I am sure there is a name for it but I have no idea what it is).  I liked that I could follow the lace trend with it without haveing to go with a really heavy pattern like you see more often in the stores.  I completely line the shirt.  At first I only had one layer of lace at the necline but it looked a little wimpy so I added the second longer layer underneath it and I love how it turned out!
THE DRESS- Last spring I saw this dress at Anthropologie and fell in love.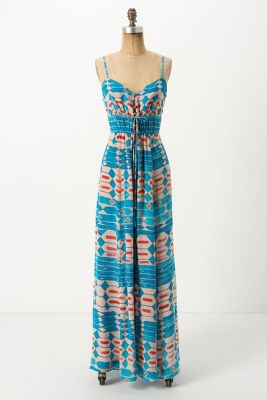 The things I didn't quite love were the 248 dollar price tag, it is silk (four children), and I am not too crazy about the Aztec like print.  I love the shape of the dress, that it is a flowy looking dress that still has waist definition.  So I found this Ikat like fabric at Joann's in a color pallete that fits perfectly with my other mini wardrobe fabrics.  I started pinning it on my dress form and cutting and sewing until I had it figured out.  The trickiest part was the two gathers at the waist.  I ended up using a big seam allowance then folding it over and stitching with enough room to run my ties through.  Then I made buttonholes in the front to run the ties out of.  This dress has 16 shank buttons.  Do you know how much money 16 shank buttons can run you?  I ended up buying a bag of wood beads for four dollars.  That is only 25 cents a button!!!  I kind of get a little over excited when I get a good deal.  I really love this dress!  I think it will be great for summer because of the style, but will also work really well for fall with a cardigan because of the color pallete.
THE PANTS- I think these pants were meant to be.  I had absolutely no problems sewing them.  I didn't have to unpick one seam, my thread never ran out at the wrong time, and my idea for changing my pattern looked just like it did  in my head.  I was inspired by a look I have seen a couple of times on Project Runway here here and here (sorry but I couldn't get a good picture to copy).  I loved the baggy look at the bottom of the pants.  You see I have some issues with skinny jeans, mainly that they make my hips look HUGE, but I love the fact that you can wear cute shoes with them that can actually be seen since the hem of your pants isn't so close to the ground.  I thought this might be the perfect solution.  I feel like the gathering around the calf gives enough volume to balance out my hips and thighs reducing the ice cream cone effect.  I made these out of uncut corduroy.  I love this fabric it is really sturdy and thick (thinking cold Montana winters here) and really soft.  It feels somewhere between a felt and a velvet nice and soft.  I used the flat front zipper placket tutorial from Threads magazine and and Sandra Betzina.  On a side note I got a kindle fire and I LOVE it.  Usually when I follow tutorials with my sewing I have to run upstairs to see it on my computer then downstairs to do a few steps, then upstairs again and over and over.  This time I just set up my kindle on my sewing table.  It was so much quicker.  I used my awl and hammer to insert the button and a whole bunch of rivets.  I top stitched the begeezes out of these pants with classic gold denim thread.
TOP TWO- This top was originally supposed to be a pencil skirt made out of a carmel colored two way stretch knit.  I only had one day left to make it so I thought "this will be easy, I can knock out a knit skirt in a couple of hours" boy was I wrong.  The knit was pretty thin without a lot of stability so it would show every unfortunate bulge in the stomach, hips, but area.  So I got this great idea to ruch the sides of the the skirt to give it a gathered look that would be thicker and more stable.  When I was done and looking at it in the mirror the game show The 20 thousand dollar pyramid came to mind…
Cattegory- Things that look terrible
Clues-
Sausage links
ruched 80s prom dresses
80s balloon valances
Answer- Karen's ruched pencil skirt!!!!!!  (winning bell, balloons falling, confeti everywhere)
So ya, I was in a pinch.  I quickly looked through my fabric to see if I had something else in the right color pallette, but I really wanted that fabric.  So I chopped up the skirt and made a shirt out of it.  I made really long sleeves (because apparently I am more than a little obsessed with gathering) but I really like the results on this top.  I also have had this idea for a while with a twist on a scarf at the neck.  I sewed a long rectangular strip of the fabric to the front of the neckline then I can wrap it around the neck and hang it down the front for a scarf look, or wrap it around to the back for a turtle neck look.
I am really happy with how everything turned out, I feel like I have a lot of versatile yet unique pieces to wear this fall, and now for your viewing enjoyment here are a bazillion posibilities for these items.
Wow, so I am pretty sure that is the longest post ever.  My eyes are completely dried out from staring at the computer this long.  HOW do people have desk jobs???  I really am happy with everything, the only thing I might change is to make the lace top a little more slender through the ribcage.  I think my favorite is the maxi dress with the leather jacket, I think it is a little unexpected but really cool.  So anyway head on over to patternreview.com  to see all the other amazing entries!